SPEAKERS & PRESENTATIONS
Monday, October 4
9:15 - 10:45 AM
Gerry O'Brion


What Big Brands Know
Learn a framework in innovation and influence that will show you how to become the #1 choice in crowded industries. Create disruptive strategies and messaging to attract your ideal customers, and leverage change to create unique competitive advantages making you the clear choice. Your customers may be interested in your why and engaged by your story, but they BUY YOUR BECAUSE. Gerry's Power of BECAUSE framework has been used by manufacturers, distributors, dealers, and businesses of all kinds to clarify their message, drive referrals, and close sales.
The presentation is a fun, thought-provoking dialogue that reveals the four critical questions you should be asking to stand out in the sea of sameness. It is packed with strategies and case studies from multiple industries that can be implemented immediately.
Gerry O'Brion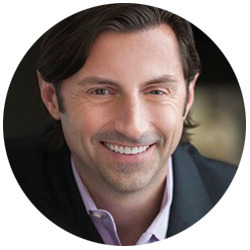 Gerry O'Brion has helped thousands of businesses become the #1 choice in crowded industries. He is the Founder of What Big Brands Know® and the creator of The Power of BECAUSE framework of influence which shows companies how to stand out in the sea of sameness.

Gerry teaches a powerful process to influence customers to buy from you vs. all their other options. His strategies work in any business regardless of whether they are B to B, B to C, have a large budget, or small. Gerry spent his career as an executive for brands like Procter & Gamble, Coors Light, Quiznos, and Red Robin. He has an MBA from the University of Michigan and a BBA from the University of Wisconsin.
---
Monday, October 4
11:00 AM - 12 PM
Adam Livesay
YES/ELI Workshop: Defining Your Purpose
Bio coming soon
Adam Livesay
---
Tuesday, October 5
8:30 - 10 AM
Taylor St. Germain
ITR Economic Keynote
Founded in 1948, ITR Economics is the oldest privately held and continuously operating economic research and consulting firm in the United States. With a long-term accuracy rating of 94.7%, ITR has forecast major economic events such as the Great Recession of 2008 well in advance and provides reliable industry and company forecasts tailored to clients' needs. ITR Economics also offers webinars, subscription periodicals, consultative reports, and data collection services.
Taylor St. Germain
Taylor's dynamic personality and extensive knowledge of economic trends and their business relevance are highly valued by clients and colleagues alike. He has spoken at over 20 Vistage events, receiving an average performance score of 4.82 out of 5 for 2018. Additionally, Taylor maintains a perfect 100% recommendation from each audience group.
Taylor studied at the University of Vermont, majoring in statistics with a double minor in mathematics and
political science.
---
Wednesday, October 6
9:00 - 10:15 AM
Andy Fastow
Rules vs Principles
Ethics is understanding the difference between what is right to do and what you have the right to do.
Fraud examiners, Auditors, Regulators, and Compliance experts look for "fraud", but fraud is a narrowly defined term. Usually, these experts look for embezzlement, bribery, and the forging of incorrect financial entries. In other words, these experts look for employees who are "breaking the rules". However, a majority of what is determined to be fraud "after-the-fact", were actually decisions made by employees who believed they were "following the rules".
The "traditional" definition of fraud does not include a very significant component of fraud, namely "loopholes". Loopholes, simply stated, are contrived structures that technically adhere to a rule (or at least obtain an opinion attesting to technical compliance), but that contravene the purpose, or principle, of the rule.
Andy Fastow
Mr. Fastow was the Chief Financial Officer of Enron Corp. from 1998 – 2001. In 2004, he pled guilty to two counts of securities fraud, and was sentenced to six years in federal prison. He completed his sentence in 2011, and now lives with his family in Houston, Texas. Mr. Fastow currently provides litigation support at a law firm, and he consults with Directors, attorneys, and hedge funds on how best to identify potentially critical finance, accounting, compensation, and cultural issues.
Mr. Fastow received a BA in Economics and Chinese from Tufts University and an MBA in Finance from the Kellogg Graduate School of Management at Northwestern University. Prior to joining Enron, he was a Senior Director in the Asset Securitization Group at Continental Bank N.A.