Motion Control Technology
The following publications provide excellent technical information and can be purchased through www.amazon.com.
Basic Electronics for Hydraulic Motion Control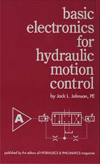 Jack L. Johnson, PE
"Basic Electronics for Hydraulic Motion Control" was written specifically for the technician or engineer who is primarily trained in or familiar with hydraulic technology. It covers the basic theorems of electrical circuit analysis and laws, but uses the hydraulic analogy as a teaching tool, ie, pressure - voltage, current - flow, resistance - orifice and so on. In this way it builds upon the readers' present skills to expand them into the "mysterious realm of electronics." In so doing, power supplies, diodes, rectifiers, capacitors, inductors, transformers, operational amplifiers, signal conditioning, sensors and transducers, introduction to feed back systems and motion control are all covered in 405 pages, 15 chapters plus a unique Appendix that lists all the pertinent electric-hydraulic analogies. The author is an electrical engineer by education, but has been involved in the design of electronic control of hydraulic machinery for more than 30 years.