Management - Inventory & Warehouse Topics
The following publications are available through the Distribution Group. Learn more about these publications at www.distributiongroup.com
Achieving Effective Inventory Management, 2nd Edition

Jon Schreibfeder
This brand-new revision presents a new standard for distribution inventory management. It offers a comprehensive discussion of every phase in the process.
Also included is a computer-based "Inventory Analyzer," which swiftly produces reports on the current state of the user's inventory, including how to organize your warehouse to reduce order-processing costs; minimize losses caused by shrinkage and obsolescence; improve demand forecasting; analyze inventory to find new profit opportunities; and develop dynamic safety stock allocations.
As an essential companion piece to Achieving Effective Inventory Management, the author has prepared 12 Excel® spreadsheets on floppy disk. These spreadsheets, using data downloads from the distributor's company computer, can be used to provide vital information on several crucial inventory situations.
---
Auditing Warehouse Performance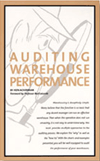 Ken Ackerman
Auditing Warehouse Performance, book and spreadsheet set, packs a wealth of useful information into its 226 pages. The book covers the fundamentals of auditing, human resources, and customer relations, providing the tools you need to develop an operations audit system for your warehouse. Productivity, efficiency and streamlined layouts are covered, with emphasis on the how-to. Auditing Warehouse Performance offers guidance on managing the flow of products, with the goal of adding value to the wholesale distribution firm and its customers.
Purchasers of this new book will also receive, at no extra charge, 12 free issues of Ken Ackerman's Warehousing Forum, a $96 value. This monthly newsletter reaches subscribers all over the world, many of whom have received it since the first issue was published nearly 20 years ago. It provides precise and practical information with substantial "take home value," since its writers are warehousing professionals whose views are based on actual experience.
---
Lean Warehousing PLUS Warehousing Forum Newsletter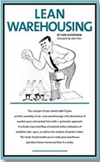 Ken Ackerman
Lean Warehousing is the first book to apply the "lean manufacturing theory" specifically to the world of warehousing. It discusses the "why of getting lean" and "how it works," as well as storage, materials handling, tools, consumables, construction, and leadership. This book has a series of checklists and other practical tips that you can apply immediately to make your warehouse operation leaner tomorrow than it is today. Purchasers will also receive, at no extra charge, 12 free issues of Ken Ackerman's Warehousing Forum Newsletter.
---
The Time, Space & Cost Guide to Better Warehouse Design

Maida Napolitano and the Staff of Gross & Associates
Let The Time, Space & Cost Guide to Better Warehouse Design be your hands-on guide to improving the design and operations of your warehouse or distribution center. Throughout the book, the authors have combined a theoretical yet practical approach that is applicable to both conventional and state-of-the-art warehouses. This newly revised edition offers more than 100 charts and figures to illustrate concepts, provide detailed data, and offer further insight.
Time, Space & Cost Guide to Better Warehouse Design provides a wealth of information that will help you benchmark your operations and test new ideas and concepts before you implement them.
---
Warehouse Productivity

Pat Kelley and Ron Hounsell
Warehousing Productivity describes a performance-based pay system that you can use to significantly increase the productivity of your workforce. This book provides detailed plans for implementing a Simplified Gainsharing approach to improve—even double—workforce productivity.
Warehouse Productivity offers real-world examples of how to apply the principles and strategies outlined, as well as overcome some of the inevitable stumbling blocks. If you're ready to see quality and productivity soar while reducing your warehouse staff to a core of top-flight workers, you're ready for Warehouse Productivity.
---
Warehousing Tips & Warehousing Forum Newsletter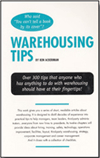 Ken Ackerman
Made up of dozens of concise, "bite size" articles, Warehousing Tips distills the author's decades of experience into practical tips for new hires, managers, team leaders and company presidents alike. Its 12 chapters cover all aspects of warehousing for wholesaler-distributors, including hiring, training, safety, technology, operations improvement, facilities, layout and corporate management.
Purchasers of Warehousing Tips will receive-at no extra charge-all 12 monthly issues of Volume 20 of Ken Ackerman's Warehousing Forum newsletter. That's a $96 value.