Member Services and Benefits
Here you'll find a wide range of useful resources, many of which are available only to members. Restricted access will require a User ID and Password. If you forgot your ID or Password, click forgot password and enter your email address. If you have trouble downloading any of these resources, please call FPDA Headquarters at 410-940-6347.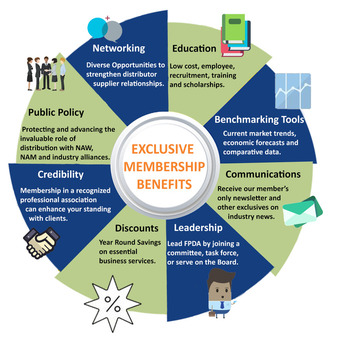 Download an Excel® template that provides three different valuation estimates of your business: Liquidation Value, Discounted Future Earnings Value, and Assets and Earnings Value.
Distribution and Manufacturing Software Guides:
researching software solutions - here's the resource that you need. Their online guide provides extensive information about each vendor, their applications, and their functionality to assist you with your research project.
Current Information about the Distributors Software Guide
Current Information about the Manufacturers Software Guide
E-Commerce Tools & Resources
Mentor Program
Request an Excel list of all FPDA Members or view the current members in the Member Search.
Partnership Planning Guide
provides an interview evaluation system designed to improve communications and performance between trading partners, and is useful for mutually assessing performances, developing improvement plans, and initiating discussions for improving distsributor and manufacturer relations.
an online, interactive monthly index of fluid power distributor sales, orders, and inventory levels providing customizable graphs. Learn more. Sign up.
a 7-step process for implementing extended value selling within your company. Includes tools, templates, and other resources.